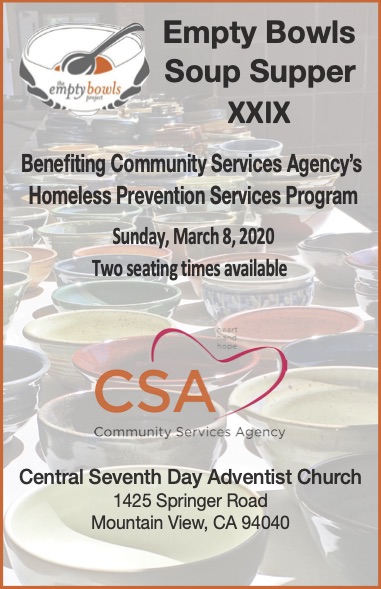 2020 Empty Bowls Soup Supper
Sunday, March 8th, 2020
Central Seventh Day Adventist Church – 1425 Springer Road, Mountain View 
It's that time of year again – our ever-popular Empty Bowls Soup Supper XXIX! This year's event will be held on Sunday, March 8th at the Mountain View Central Seventh-day Adventist Church.
By popular demand, we are offering two seatings: Seating 1 from 3:00 to 4:30 and Seating 2 from 5:00 to 6:30. Please note: Seating 2 is now sold out. Tickets are $35 for adults and teens (12+), $25 for seniors and $10 for children under 12. Admission includes a soup buffet, salad, cake and beverage PLUS a lovely hand-crafted ceramic bowl! Please note that ticket prices go up $10 on March 1st.
To learn about Empty Bowls Sponsorship Opportunities, please click here.
If you are interested in volunteering for set-up, clean-up and throughout the event, please contact LaDrea Clark at (650) 968-0836, extension 114. For all other inquiries, please contact Anita Grossman at (650) 968-0836, extension 115.