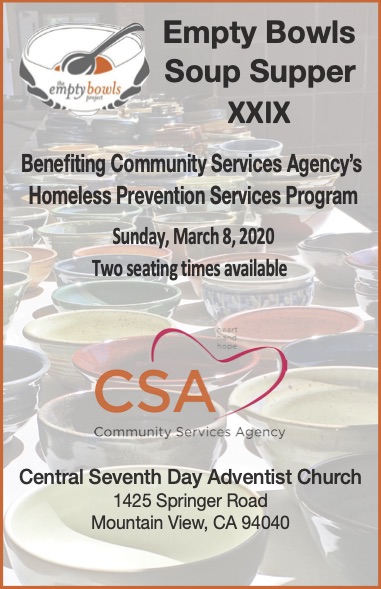 2020 Empty Bowls Soup Supper
DATE TO BE RESCHEDULED!!!
Central Seventh Day Adventist Church – 1425 Springer Road, Mountain View 
IMPORTANT UPDATE: CSA is postponing Empty Bowls scheduled for Sunday, March 8 in response to the COVID-19 virus situation. We are working with Mountain View Central Seventh-day Adventist Church to find a suitable date in May or June when flu season is over and this new strain is hopefully contained. If you are a ticket-holder, we encourage you to hold onto your current tickets which we will honor at the rescheduled date. However, if you are a ticket-holder and would prefer to get a refund now, please contact Twana Karney, at [email protected]
Thank you for your patience and understanding.
To learn about Empty Bowls Sponsorship Opportunities, please click here.
If you are interested in volunteering for set-up, clean-up and throughout the event, please contact LaDrea Clark at (650) 968-0836, extension 114. For all other inquiries, please contact Anita Grossman at (650) 968-0836, extension 115.