We are delighted to present the first in a series of profiles on this year's Hometown Heroes who will be honored at our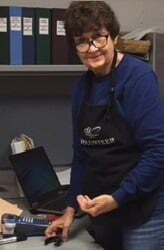 annual awards breakfast on Friday, September 29th at the Computer History Museum.
Whether it's tallying food donations, lending a hand in the food pantry or organizing volunteers for CSA's recent 60th birthday celebration, Mary Hayes has us covered, volunteering nearly 40 hours every week in support of our mission.
Meet Mary: A Texas native, Mary was born in El Paso and spent her formative years traversing the country with her army career officer father and family. "We moved every three years until I was 12." She attended high school and college in Texas, graduating from the University of Texas Medical Branch in Galveston with a bachelor's degree in nursing.
Mary left Texas in 1986, first settling in Sunnyvale and then Sonora until moving to Mountain View in 1998. She has held a variety of nursing positions, specializing in "a little bit of everything" including coronary, intensive and neonatal care. She spent the last 17 years of her professional life in blood banking at Stanford Blood Center.
How did you come to volunteer at CSA? I love walking around my neighborhood and literally walk past CSA every day. Up until two years ago when I retired and started looking for volunteer opportunities, I had no idea what CSA was or what the agency did. My first CSA volunteer experience was helping the volunteer coordinator a couple of times a week and then I was tapped to help the Homeless Prevention Services team. I was asked to help with last year's Toy Drive and have basically been volunteering full-time ever since.
What motivates you to give so much of your time? There's a lot of need, it's enjoyable and I learn so much every day. I am very impressed with the organization – CSA truly cares about the community and the clients it serves, and the staff and volunteers are very invested in helping the agency carry out its mission. I don't think people realize how much CSA provides to those in need – be it food, rental assistance or just helping them get back on their feet. A great deal of effort is expended to help clients, and volunteers can make a huge difference by freeing up the staff to focus their energies on direct support.
What are some of your other interests? Hiking, reading and following sports teams immediately come to mind. I just finished To Kill a Mockingbird which I read over and over again; it's my favorite book of all time. I'm a big Giants fan, and I love the Dallas Cowboys, the Boston Celtics and the Warriors. I also enjoy travelling and music, especially ZZ Top – my all-time favorite band. If I ever win the lottery, I would spend the rest of my life giving money away and travel extensively … but to sports events like the Stanley Cup and Master's Event. Plus I really want to see Fenway Park.
Any thought about being a CSA Hometown Hero honoree? I am honored that the agency thought of me. I'm here to support the staff so they can help those in need. I really hope that other people will be inspired to volunteer at CSA because it's such a good agency and a very worthy cause.
Please click here to purchase tickets to this year's Hometown Heroes.