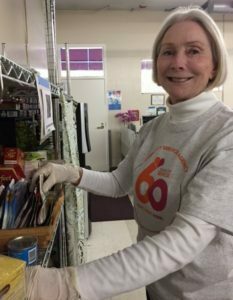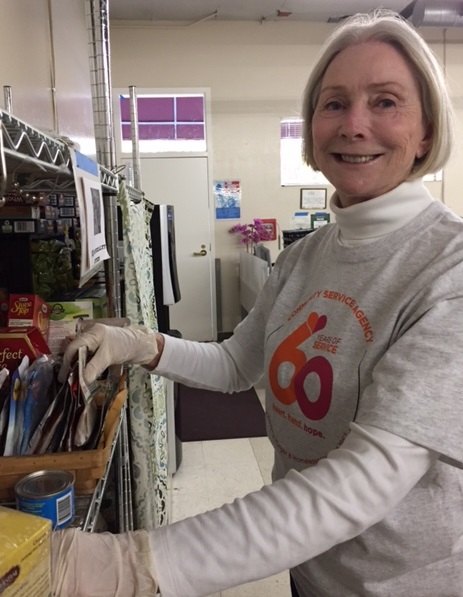 Meet Kitty: Kitty grew up in Honolulu and moved to the Bay Area in the mid-70s while working as a flight attendant for Pan American World Airlines, headquartered in San Francisco. "It was a different time and different era for air travel," says Kitty, who also worked as a ticket agent for American Airlines. She and her husband have three adult children, two who live locally and one in the New York area. Kitty has been a weekly volunteer in CSA's Food & Nutrition Center for the past 15 years and worked at a food bank when she moved backed to Honolulu for a few years.
"Kitty brings good energy to the pantry whenever she's here," says Volunteer Coordinator LaDrea Clark who has worked closely with Kitty since she started volunteering. "She is very friendly and helps make other volunteers feel comfortable when they're here. She goes the extra step for our clients too, making sure that they are taken care of if they stop by outside regular pantry hours."
How did you come to volunteer at CSA?
My youngest daughter was in high school and I was looking for interesting ways to get involved in the community. I had heard wonderful things about CSA and the agency's mission – what could be more important than helping people with their basic needs?
Working in the pantry on Wednesday mornings has become a regular part of my life. I have met some wonderful people – including other volunteers, clients and staff – and feel that I am helping to make a difference. It's been a good way to connect with others.
I have also learned a great deal about CSA's scope of service and the clients themselves. There's so much more being offered here than I ever thought. I have enjoyed getting to know the clients and hearing their stories.
What's changed since you started working at CSA?
CSA's pantry is serving so many more people – especially with the outreach to the local elementary schools – and we are running out of space to sort, organize and store the volume of groceries needed for clients. I got quite a workout in December moving grocery bags from one location to another as we stepped up the pace to provide groceries for the growing number of families in the Holiday Sharing Program. The need is greater and will continue to grow.